Covid-19 vaccines available in Selden this week – Click/Tap here for more info
PLEASE READ THE ATTACHED FOR MASJID USE POLICY DURING THE COVID-19 PANDEMIC
Tarawih Prayer:
We have limited capacity (150) inside the Masjid, we will admit people on a first come, first served basis. Please note that we will only allow children 13+, same as Jumu'ah prayers. Please mask up, bring your own prayer rug and observe social distancing. We are required by law to enforce certain preventative measures including contact tracing. We are still living in a pandemic environment – please be careful and get vaccinated as soon as possible!

We tried our best to accommodate our sisters for Tarawih and Jumu'ah prayers, but unfortunately we did not get the needed commitment from female volunteers. We also explored the female security guard option, but our security company could not find any female guard for Tarawih hours. Hence, we cannot accommodate our sisters at this time. Tarawih prayers will be available via Facebook live Insha'Allah (www.facebook.com/seldenmasjid). As things get better or we have needed logistical support, we will accommodate our sisters for congregant prayers (Jumu'ah and Tarawih) Insha'Allah.

Parking:
Please DO NOT block driveways
Please do not park in adjacent shopping center parking lots, except in front of Selden House of Spices. DO NOT PARK IN FRONT OF LAUNDROMAT, COMIC/GAME AND PINK CLEANER STORES, on either side of the parking area
Any illegally parked car will be towed away at owners expense
Be a good neighbor and be considerate & mindful of others
Daily Iftar:
Due to the pandemic, we are not able to serve Iftar in a similar fashion as it was done in the past. However, we are arranging for a limited number of take-home dinner boxes (cooked food) to give away daily. This is for deserving people, please do not avail this service if you can afford to do the Iftar at home or at a restaurant. Food distribution will be held between 6:30 PM and 7 PM daily and will be based on a first come, first served basis.
If you would like to sponsor Iftar then please send us an email to info@seldenmasjid.org, call 631.732.1235 or see one of the administration staff members at the Masjid.

JazakAllahKhair
IALI Administration
Food Pantry
Alhamdulillah, distribution of food/grocery items is done every second Saturday of the calendar month between 2PM and 4PM. Anyone in need of food/grocery items should come to the Masjid during above mentioned day and time. We can also accomodate the pickup or delivery of food items at other times in an emergency situation.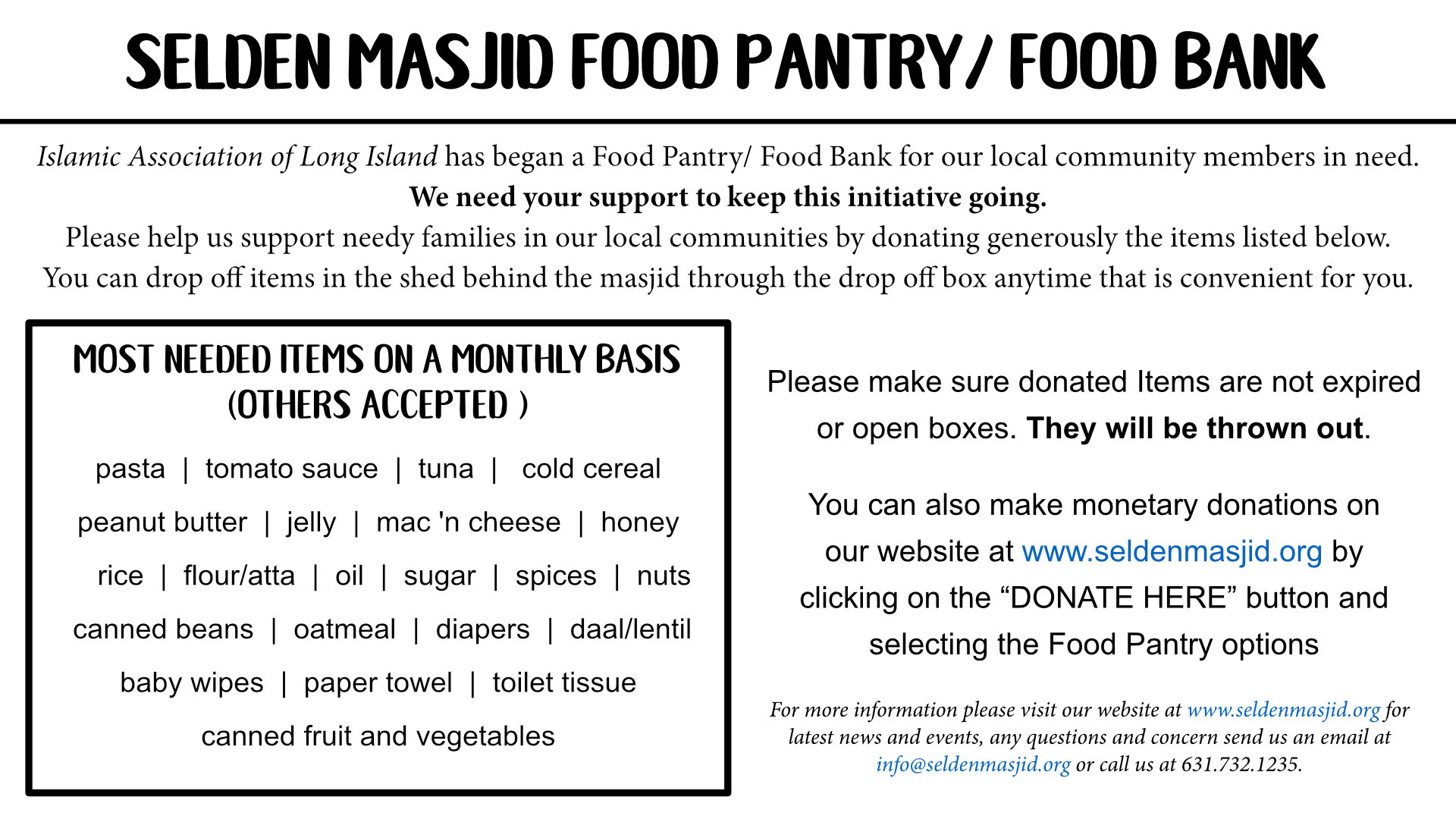 ---
Welcome to Islamic Association of Long Island, the first Masjid in Suffolk County, registered with New York state in 1974. We are also known as Selden Masjid. Our Masjid offers 5 time daily prayers and Namaz-e-Jummaa, Iqra Saturday School, Sunday School, Weekday Quran Classes, Summer School, Marriage Services, Funeral Services, and more.
We also host family night events on a monthly basis where we learn from a scholar or a professional on various issues and topics facing our youth, families and the community in general. We encourage you to participate in these events, for more information please send an email to info@seldenmasjid.org.
Sign-up for News & Events:
If you do not see the pop-up form to signup for News & Events emails, please click on this link.
---